What data is available to you with Digital Blue Foam?

Digital Blue Foam provides contextual and environmental data for your projects by bringing together geo-spatial information into a single workspace. DBF provide map and satellite imagery, terrain data at 30m resolution contours and representative mesh model, building footprint and 3d model of existing buildings for most regions, road network, building land-use when avaialble and social media check-ins, and wind and solar data from the closest weather station to your project's site.
---
List of data sources

Below you will find a list of the data providers we work with:

2d and 3d Building data: © OpenStreetMap contributors

Road Netwrok: © OpenStreetMap contributors

Terrain: © Mapbox

Map texture: © Mapbox

Satellite images: ©Mapbox

Social Media Check-ins: © Foursquare 2020

Environmental data: Iowa State University

Attributions:

© Mapbox : https://docs.mapbox.com/help/getting-started/attribution/

© OpenStreetMap contributors : https://www.openstreetmap.org/copyright

Environmental data: https://mesonet.agron.iastate.edu/
---
Asset Manager

The asset manager allows you to display or hide context and environmental layers in your project. You can acccess the asset manager panel by clicking on the layers icon at the bottom left of the ribbon menu.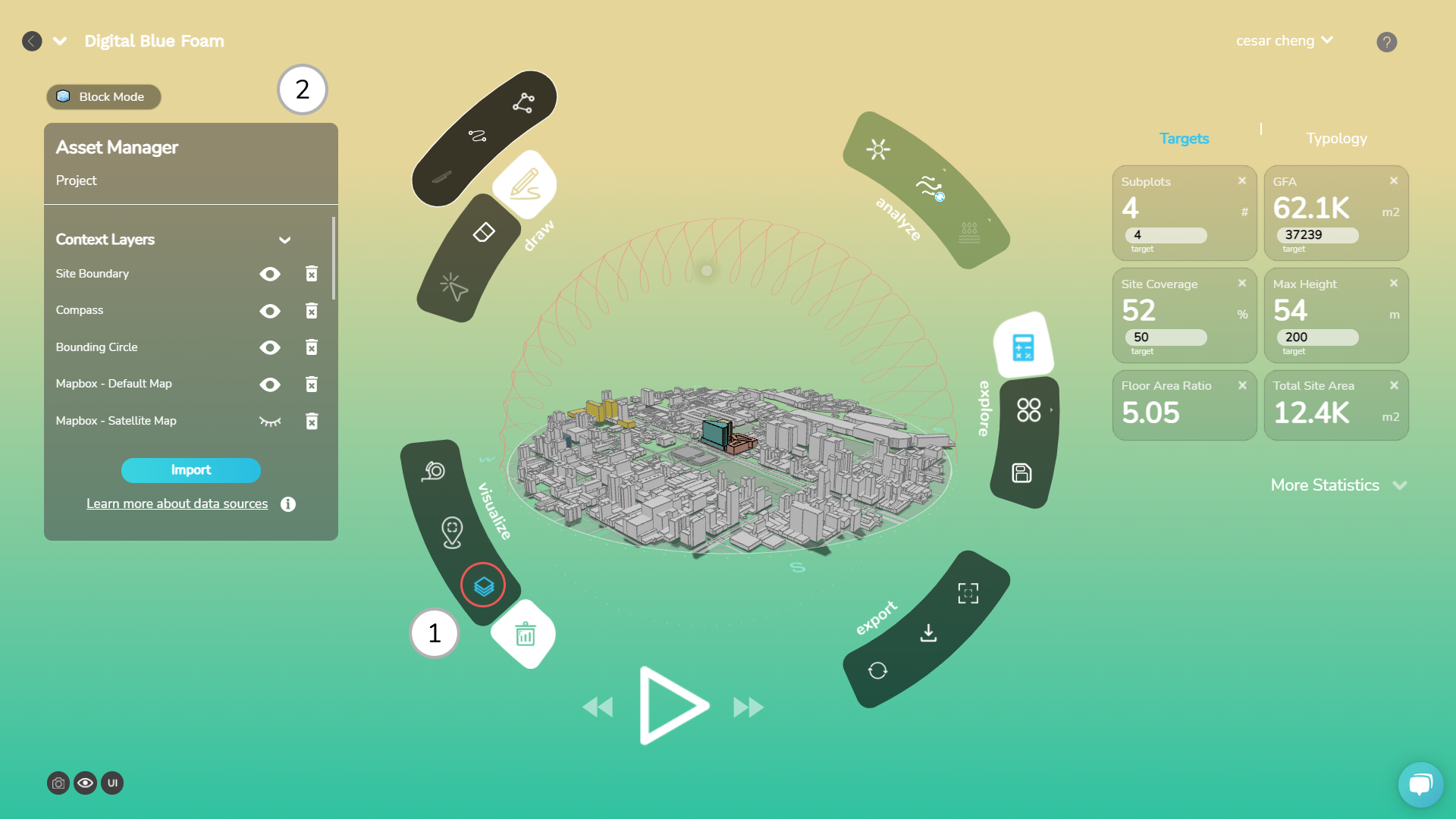 click on layer icon button to open up the list of layers.
Toggle on or off the layers you want to display or hide in your model.
Context Layers
---
Map and Satellite Imagery
Map and Satellite imagery are static raster images provided by (Mapbox)[https://docs.mapbox.com/api/maps/]. The Mapbox Streets tileset contains data derived from OpenStreetMap. This includes: streets, building footprints, parks, waterbodies, parking facilities, monuments, landmarks and poits of interest.
Road Network
Road data in Digital Blue Foam includes the road geometry/location. The road data contains information derived from OpenStreetMap.

---
3D Buildings
Digital Blue Foam provides three-dimensional model of the existing surrounding buildngs in your site. The 3D building data contains information derived from OpenStreetMap in area where this information is available. In some cases building height data is missing, when this happens DBF assigns a nominal height of 3 meter to represent the context.
Download 3D Context
DBF users can dowload 3D context buildings and road network as .STL mesh model to be used in other CAD or BIM softwares.
Upload my own 3D Context
If the 3d context does not reflect the current state of the surrounding buildings, users can upload their own 3d context. To learn more about this go to How to import 3D Context.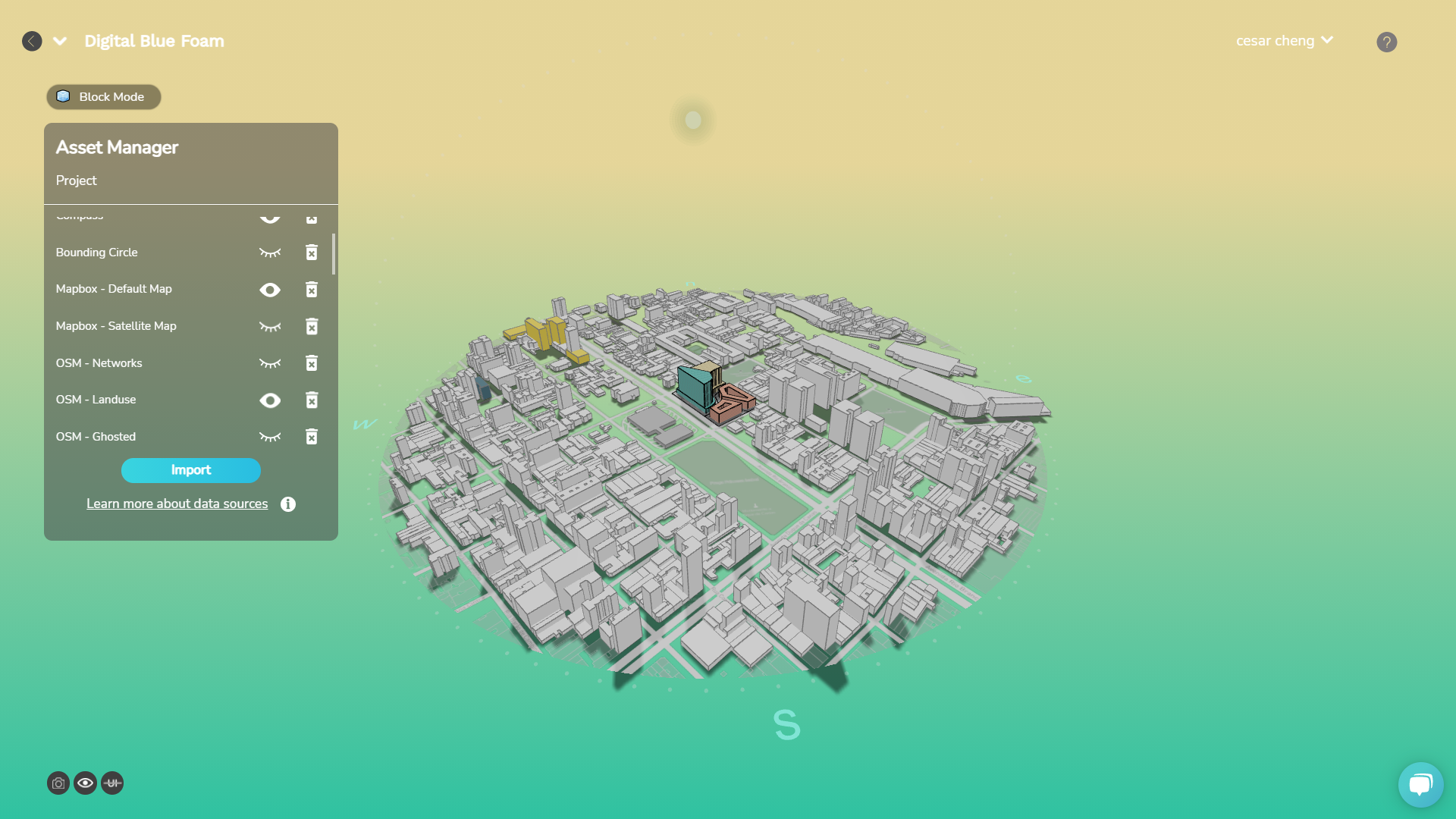 Environmental Data
For weather analysis, DBF fetches information from the closest weather station to your site. This data includes: solar position, typical/extreme periods, wind speed and frequency. The weather data presents information derived from Iowa State University Mesonet project.